The World Federation of ADHD International Consensus Statement
The World Federation of ADHD published an International Consensus Statement in 2021.
Here, world leading experts in the area of ADHD, such as Stephen Faraone, Tobias Banaschewski, David Coghill, Yi Zheng, Joseph Biederman, Mark Bellgrove, Jeffrey Newcorn, Martin Gignac, Iris Manor, Luis Rohde, Samuele Cortese et al., many of them board members of the World Federation of ADHD, state that misconceptions about ADHD stigmatizes affected people, reduce credibility of providers and prevent or delay treatment.
By reviewing specific literature, i. e. 208 empirically supported statements about ADHD, they curated findings with strong evidence base. The authors highlight that most cases of ADHD are caused by the combined effects of many genetic and environmental risks and that there a small differences in the brain between people with and without ADHD. Moreover, untreated ADHD can lead to many adverse outcomes and it costs the society hundreds of billions of dollars each year worldwide.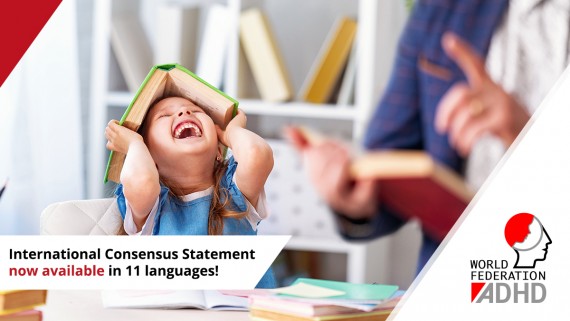 ... the International Consensus Statement, you approve its contents, please join as a signatory by emailing Prof. Faraone to svfaraone@upstate.edu
The International Consensus Statement is available in Arabic, Catalan, Chinese, English, French, German, Italian, Russian, Spanish, Swedish, and Turkish language.
Welsh Translation of the ICS Abstract
We would like to thank the translators for their efforts.
Arabic version courtesy of:
Translation:
Dr Hussain AlTaweel, Psychiatrist
Marwah Behisi, Psychologist
Editing:
Prof. Mohammed M.J. Alqahtani
Jeremy Varnham
Translator of the Catalan version:
Juan Pérez Caro
President of the Catalan Federation
of Associations of Relatives and Affected by ADHD
Sabadell, Spain
Translators of the Chinese version:
Xuping Gao
Peking University Sixth Hospital
Beijing, People's Republic of China
Ning Wang
Peking University Sixth Hospital
Beijing, People's Republic of China
Rao Xie
Peking University Sixth Hospital
Beijing, People's Republic of China
Yilu Zhao
Peking University Sixth Hospital
Beijing, People's Republic of China
Fuxi Zhangkang
Peking University Sixth Hospital
Beijing, People's Republic of China
Zhao Fu
Peking University Sixth Hospital
Beijing, People's Republic of China
Yirong Liu
Peking University Sixth Hospital
Beijing, People's Republic of China
Edited by:
Li Yang
Peking University Sixth Hospital
Beijing, People's Republic of China
Li Chen
Children's Hospital of Chongqing Medical University
People's Republic of China
Translators of the French version:
Diane Purper-Ouakil MD, PhD
University of Montpellier, Centre Hospitalier Universitaire de Montpellier,
Hôpital Saint Eloi, Montpellier, France
INSERM CESP U 1018 Psychiatry, Development and Trajectories,
University of Saclay, France

Hervé CACI, MD, PhD
Child and Adolescent Psychiatrist
Pediatric Department
Hôpitaux Pédiatriques de Nice CHU Lenval
57, avenue de la Californie, Nice, France
Christine Gétin
President, French ADHD Patients organization
HyperSupers TDAH, France
François Pinabel, MD
Psychiatrist
Attaché à La Pitié Salpêtrière
Paris, France
Jacques Bouchez
Neurodevelopmental Disorders – ADHD Centre
GHU Psychiatry and Neurosciences - Paris
1rue Cabanis, Paris, France
Prof. Franck J. Baylé
Paris University and School of Medicine
Past Chair of Psychiatry, HDR, INSERM U1153,
Statistic and epidemiologic research center Sorbonne Paris Cité (CRESS), ECSTRRA team, Sainte-Anne Hospital - GHU Paris Psychiatrie et Neurosciences, France
Translators of the German version:
Michaela Junghänel
M.Sc. Neurowissenschaften; M.Sc. Psychologie
Ausbildungsinstitut für Kinder- Jugendlichenpsychotherapie
an der Universitätsklinik Köln (AKiP)
Cologne, Germany
Univ.-Prof. Dr. Manfred Döpfner, Dipl.-Psych.
Ausbildungsinstitut für Kinder- Jugendlichenpsychotherapie
an der Universitätsklinik Köln (AKiP)
Cologne, Germany
Translators of the Italian version:
Alberto Anedda, Child and Adolescent Psychiatrist – Psychotherapist
Centro Lucio Bini Cagliari, Italy
Paolo Di Pasqua
Charge Nurse band 7
Emergency Department Norfolk and Norwich University Hospital
United Kingdom
Letizia Freschi, Master Degree in International Relations
Rome, Italy
Chiara Gori, Neurologist
UO Riabilitazione Specialistica
Casa di Cura Ambrosiana
Cesano Boscone, Milan, Italy
Anna Maria Sbordone, Paediatric Resident
Università Cattolica del Sacro Cuore
Rome, Italy
Luca Sbordone
PhD in Linguistics at the University of Cambridge, United Kingdom;
BA and MA in Philosophy at the Scuola Normale Superiore di Pisa, Italy
Patrizia Stacconi
President of Italian Association Families ADHD Onlus, Italy

Special thanks for the review of the document:
Samuele Cortese, Professor of Child and Adolescent Psychiatry
University of Southampton;
Honorary Consultant Child and Adolescent Psychiatrist,
Solent NHS Trust, United Kingdom
Translator of the Russian version:
Ivan A. Martynikhin, MD, PhD
Department of Psychiatry,
First Pavlov State Medical University of St.Petersburg, Russia
Tatyana A. Mudrakova
First Pavlov State Medical University of St.Petersburg, Russia
Translators of the Spanish version:
Xavier A Gastaminza, MD MSc
U. Paidopsychiatry
Hospital Infantil i de la Dona Vall d´Hebron.
UAB
Barcelona
Spain
Prof. J. Antoni Ramos-Quiroga, MD, PhD
Head of Department of Psychiatry
CIBERSAM
Hospital Universitari Vall d'Hebron
Universitat Autònoma de Barcelona
Barcelona
Spain
Translator of the Swedish version:
Sven Bölte
Professor of Child & Adolescent Psychiatric Science, PhD
Head of Neuropsychiatry Division, Director of the Center for Neurodevelopmental Disorders at Karolinska Institutet;
Center for Psychiatry Research, Dept. of Women's & Children's Health,
Child and Adolescent Psychiatry Stockholm, Sweden
Translator of the Turkish version:
Hakan Karaş, MD
Psychiatrist
Department of Psychology,
Istanbul Gelişim University, Turkey
Coordination of the Welsh summary:
Anita Thapar, FRCPsych PhD
Division of Psychological Medicine and Clinical Neurosciences
Cardiff University
Wales, United Kingdom